Become a Business Partner!
Help plan the build! We are recruiting a few key leaders in the community who we believe share our compassion for our local employees and a passion for making great things happen. Our committee plans consists of only 3 afternoon meetings at the Chamber of Commerce office above the Southern Pines Growler and then we kick it off on September 24th from 8am-1pm with CEO Day on the build site to raise the walls. Our Business Build Committee will meet on the following days:
Wednesday, July 28th
Thursday, August 26th
Thursday, September 9th
Partnering with Habitat makes STRONG BUSINESS SENSE
Builds Culture, Consumers and Connections
Whether this is your first company volunteer event, or you're seasoned pros, Habitat provides a fun, easy and engaging experience. We're in the business of building safe, affordable housing, and would love to work with you. Local employers will bring their staff teams to the build site throughout the build and the opportunity provided through Habitat for Humanity for affordable homeownership.
Build Beside Area Leaders
Friday, September 24th  at 8:00 am
The first day of construction on this year's home will take place on Friday, September 24th from 8am-1pm with our "CEO Build Day!" On this day, our business leaders will trade in their suits, ties and heels for hardhats, tool belts and work gloves. We will begin the day with only a floor system but hope to raise all of the walls and allow our fantastic local business leaders the chance to actively engage in our work and spend time together outside the usual board room. All following build days can be secured by workplace teams or individuals eager to put their skills to work. No prior build experience is needed, as our construction team is gifted at helping you find your niche for the day!
Habitat Business Build Family Partner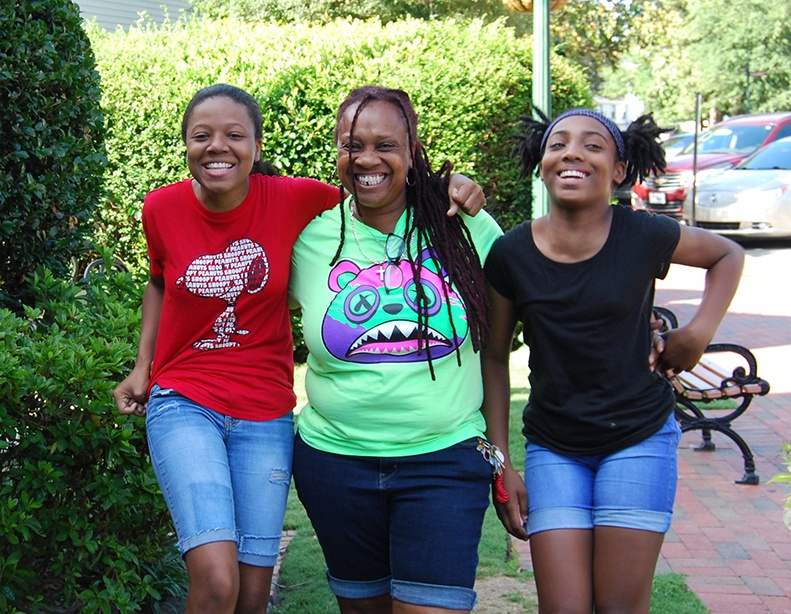 Easter Pate's family roots lie deep in the Sandhills of North Carolina.  Her grandmother was a local preacher who taught Easter the strength of faith and prayer. Easter will be the first grandchild to own her own home that she will purchase through Habitat's affordable mortgage program. Habitat is proud to introduce her as the 2022 Business Build Partner.
Easter has been working at Pinehurst Resort in the housekeeping department for over 20 years and is currently an administrative supervisor.  She is a hands-on person who has done all of her 300 sweaty equity hours by herself, the majority on the construction site. At first, she afraid of heights, but with the nudging of our construction supervisors, Easter pushed herself beyond her limitations. The skills she learned on the construction site and the homeowner classes will empower her to be a successful homeowner.
It was another homeowner that encouraged Easter to apply to the Habitat home program. Word of mouth means a lot to us as it indicates our homeowners value the opportunity they had with Habitat. Applicants must have the ability to pay an affordable mortgage, between 30% and 60% of the area median income, and housing expense and debt to income ratio.
Easter says that having a home that her girls, Diamond (15 yrs) and Mesija (12 yrs), gave her the courage to push herself beyond her comfort zone. She is inspired to have a forever home where her daughters know they will always be safe and secure. Her "Walls Up" day is scheduled for September 24th at CEO day with a team of employers who value our local workforce.
key to a positive company CULTURE
Employees want to work for a company that gives back to the community. Habitat build-days create a team building experience with purpose. A positive workplace equals lower turnover.
CONSUMERS buy with a purpose
Millennials are likely to buy products that support a cause. More brands are choosing the build brand loyalty by giving back. Recent studies show that people of all ages are receptive to companies that support a cause. Amazon's Smile program lets customers support a favorite charity every time they shop, at no cost to them.
build local CONNECTIONS
Sandhills Habitat will help you grow your business and brand through social media, newsletters, and advertising at our signature fundraising events.
Benefits to Volunteering with Sandhills Habitat for your Company
Break down the hierarchy walls of a traditional structure.
Assist in projects that provide a better future for other individuals.
Learn about your employees on a more personal level.
Provide a deeper connection to the area around you.
Create a more stable environment for those in need.
Share an experience that you can take back to the office.